What Fio Smartbanking can do
---
With the mobile app, you can perform almost all operations as in classic Internet banking. And even a little extra, such as scanning QR codes, account numbers or deposit slips. What's more, we're constantly updating Smartbanking and adding new features. Take a look at a summary of the most important things it offers.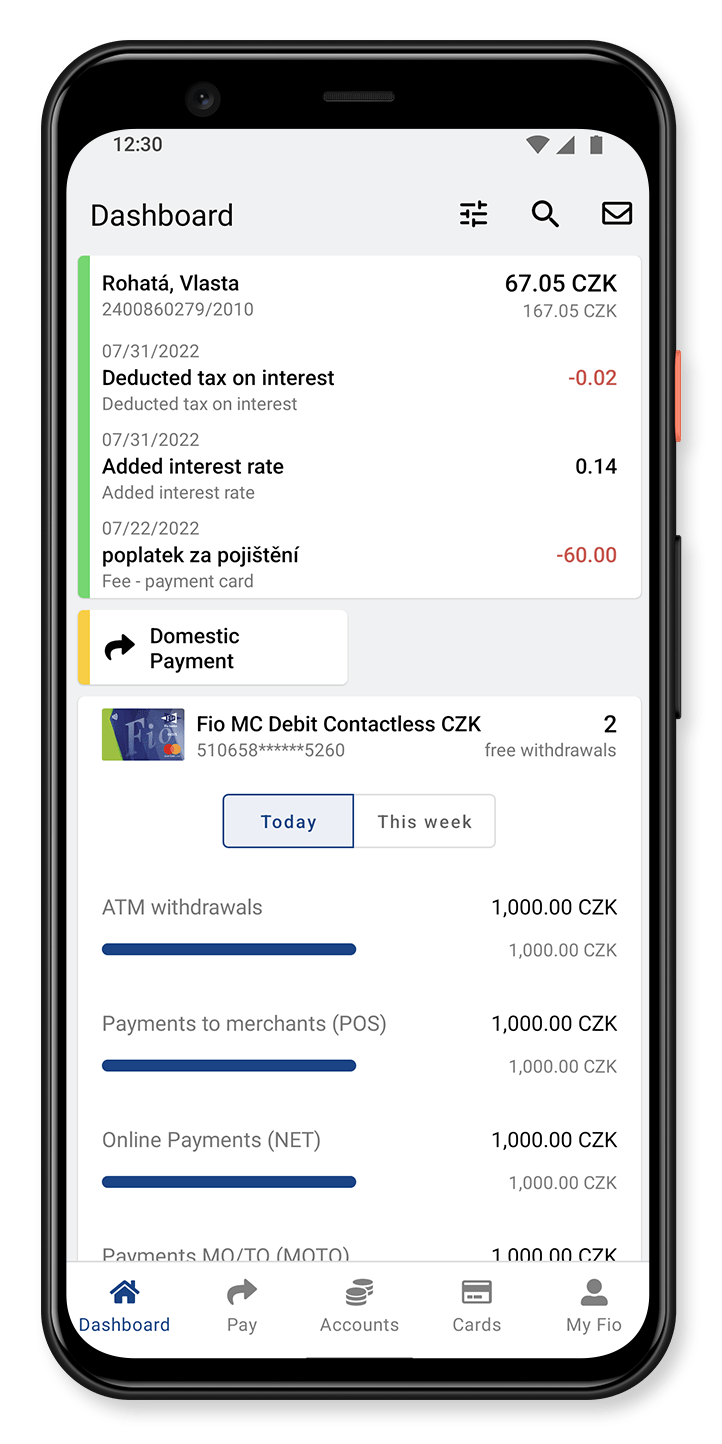 FOUR APP MODES
You can use the app to its full potential, or choose passive mode when you activate it to get started, where you can see balances, account movements and other reports. A new feature is the authorization mode, which is used exclusively to quickly confirm transactions. A combination of passive and authorization mode is also available.
PERFECT OVERVIEW
You have the ability to customize your home screen to see the most used reports and features at a glance - add accounts, cards or buttons to quickly enter payments. Accounts can even be sorted or color coded. You can also have notifications of account movements sent directly to your phone.
FAST PAYMENTS
You can pay by taking a picture of a QR code, retrieving a receipt, account number or image from the gallery, create QR codes with Pay Me, manage templates and even standing orders. You can easily and securely confirm online card payments and orders entered in Internet Banking on your mobile.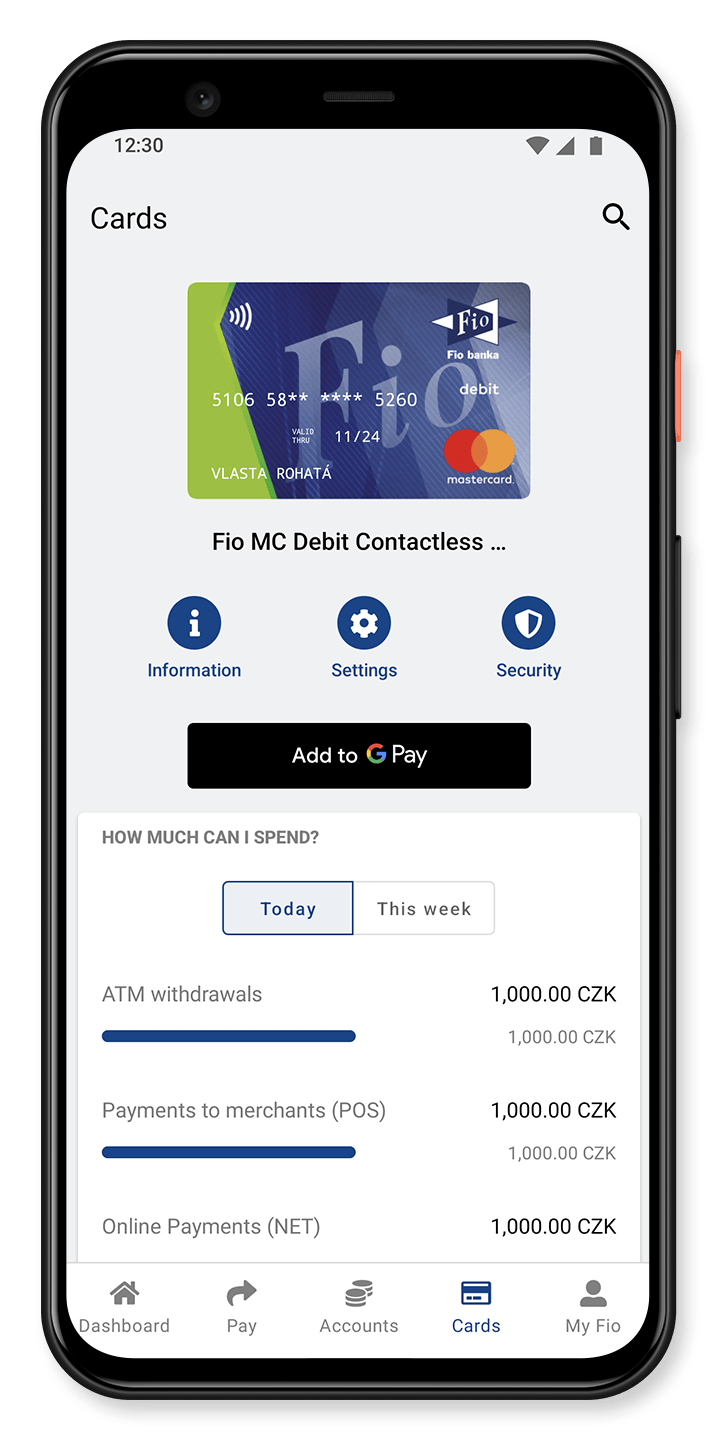 CARD CONTROL
The app allows you to change card limits at any time, arrange insurance for your card or block it temporarily or permanently. You can also block selected types of transactions, e.g. those with unfavourable exchange rates (DCC) or additional withdrawal fees from the ATM operator. If you want to pay by mobile, simply add your card to Google Pay or Apple Pay.
NEW PRODUCTS AND MORE
You can easily communicate with your bank (Fio servis), arrange a new account, as well as a savings, loan or card. You can choose to secure the app with a PIN, fingerprint or a glance at the display. The app can also use dark mode. It will direct you to the nearest branch or ATM. And, of course, much more.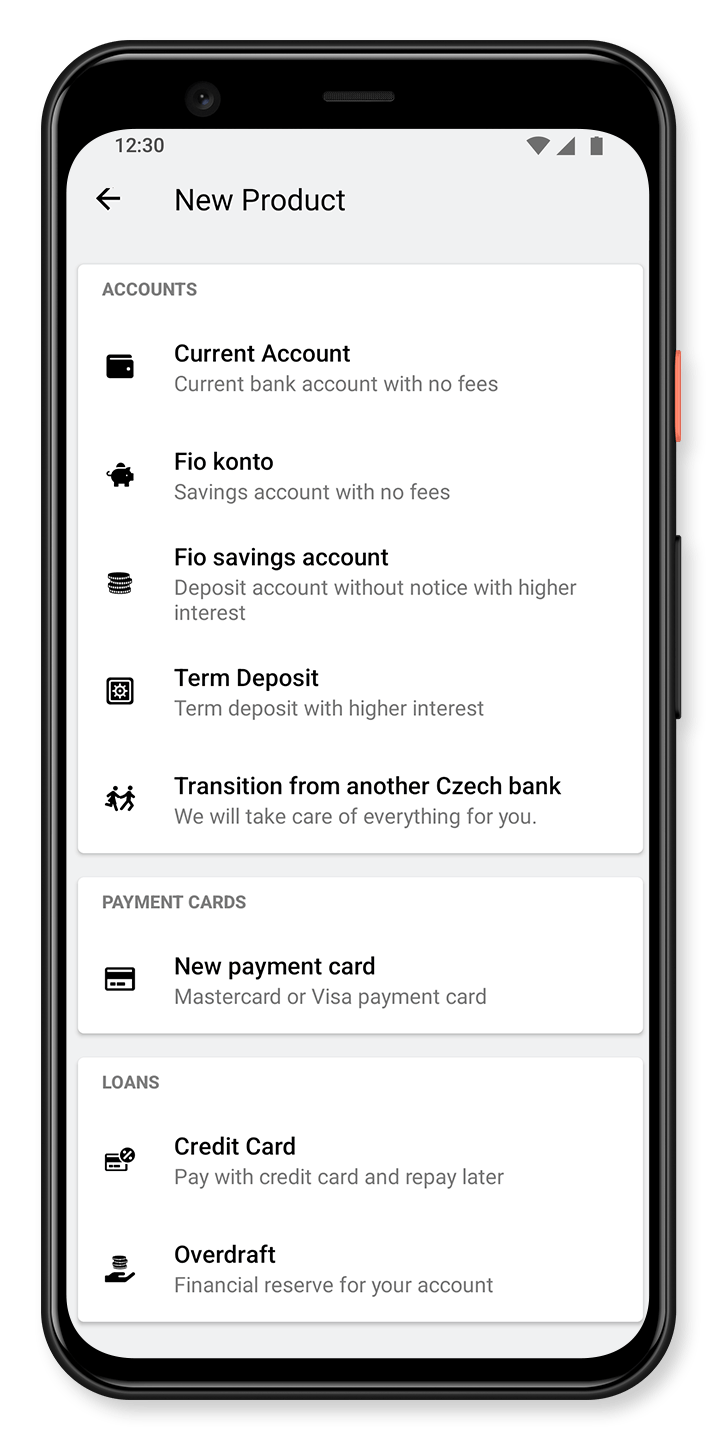 TIP: The latest features and where to look for them
Scanning of receipts (Pay > Load Receipt section) and account/IBAN number (on the payment instruction under the camera icon on the top right).
New "Authorization Only" mode (you can confirm transactions with the app, but you can't see the account or enter an instruction) and "Passive Operations and Authorization" (you can confirm transactions and view the account) - select when you activate.
Arranging new products/services: current account, Fio konto, Fio savings account, time deposit, Mastercard or Visa payment card, credit card, overdraft, instalment loan, transfer from another Czech bank (My Fio > +New product).
Card insurance management: setting up, changing or cancelling travel and abuse insurance (Cards > Settings).
---